The Relay
The Relay is "California's Longest Party" from Napa to Santa Cruz, It relays the message on donation through Organs 'R' Us. Teams of 12 travel 190 miles through Napa, Marin, Sausalito, San Francisco, the heart of Silicon Valley across the Golden Gate Bridge to Santa Cruz.
What can a participant expect from ILP?
A training calendar geared towards the relay
Tips on injury-free running from experienced runners
Weekend and Weekday Group Runs
Logistical support such as Team Registration, travel to, during and from the Relay (Vans, Van Drivers etc.,)
The costs associated with team registration, van rentals, equipment etc., will be borne by the Team ILP Relay program
A fun atmosphere and a memorable experience
Train rigorously to complete the Relay
Participate and complete the relay along with your team members
Raise $650 in pledges to support projects funded by ILP
Coordinated by experienced runners/walkers
Many of the Team ILP members have completed a marathon before. The coordinating team will also bring in outside experts to provide tips on good running techniques, stretching tips, warm-up and cool-down routines, picking the right shoes and such other details that go into injury-free running and walking.
Team building, Community Awareness and Fund Raising: All-in-one!
A few of the past year's relay team members have gone to become more involved in the cause of literacy and have taken on leadership roles in ILP. Fundraising target kept at a very achievable $650/runner (compared to as high as $3000 in some marathon training programs). This we feel lets the participants easily reach the goal and concentrate on having fun and training without being distracted by a high fundraising burden. Last year most participants exceeded this target with some participants hitting the $3000 watermark.
Prepare beginners for the next level
Due to the nature of the relay (3 legs at an average distance of 5.5miles/leg within a 30hr period) and the nature of the course, the training is geared towards intermediate distance running, hill running and back-to-back runs rather than very long distance running. A few of the past years' relay team members built on the relay training program and went on to complete marathons.
Focus is on basics of good, injury-free running
This program is a good launching pad for runners contemplating running marathons in the future. The idea behind the program is to trigger the passion for running as a fitness activity as well as provide a forum for groups of people to come together to effect a positive change in the lives of millions of underprivileged in India.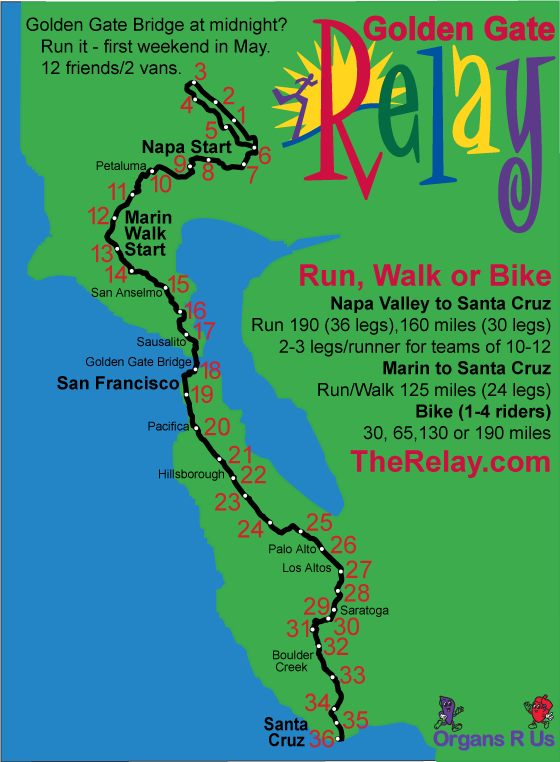 The course is divided into 36 segments called "Legs" with 84 turns. Each member of the team is pre-assigned 3 legs of the relay. The legs vary in distances (between 3 to 8.9 miles) and level of difficulty (Easy to Very Hard).
Runners travel 190 miles and walkers travel 125 miles on shoulders of roads or sidewalks, Runners of the relay team take turns to cover the 36 legs according to the pre-assigned sequence. Walkers take turn to cover the 24 legs.